TIME TO SAY GOODBYE

( Angel Records - 1997 )
My CD Review
Time To Say Goodbye - I love this song! The melody in incredible! This is Sarah's signature piece that ends her concerts. This duet features Andrea Bocelli, who has a great voice, but I think Pavarotti would have been a better match with Sarah on such an emotion packed song. I still prefer Sarah's intimate solo version on the EP, but this is an awesome song and is great nonetheless!
No One Like You - My favourite on this album. I just love the music of Jerry Goldsmith. This song is absolutely stunning and has such a beautiful melody! The choral backing here is outstanding! Within the words of this song are "I believe in miracles, there's no one like you." These words reflect how I feel about Sarah. She is a real miracle, so gifted, and there is no one like her! Sarah you are the greatest!
Just Show Me How To Love You - A great duet with Jose Cura, and another superb melody. I really like Jose Cura, and I find he is a good match for a duet with Sarah. He sings with more passion than Bocelli, and this bodes well considering how emotion packed Sarah's singing always is.
Tu quieres volver - This song is done with the Gypsy Kings as backup vocalists. It has a beautiful Latin sort of flavour with some nice guitar work. Sarah hits an incredibly high note during this song. Just awesome!
In Pace - An absolutely beautiful song! Sarah again hits some amazingly high notes during this one, and does so seemingly without effort. No one can make those incredible voice shifts like Sarah does!
There For Me - Another duet with Jose Cura. I like this tune more than the other one. A gorgeous pop type song with a nice melody superbly done by the two vocalists.
Bilitis - Generique - This is a Francis Lai piece with an exquisite ethereal sort of feel to it. There are few words in the song, but Sarah's vocals are superb as always! The London Symphony Orchestra winds shine here as well.
Who Wants To Live Forever - This beautiful Queen song features superb vocals. Sarah's voice soars to great heights throughout this song. And the London Symphony Orchestra brass section adds a nice touch to it all. At times it seems like an angel is singing, and she is... the 'Angel of Music'! Simply awesome!!
La Wally - This song is absolutely stunning! My second favourite next to the one mentioned above. This is the very beautiful aria 'Ebben?... Ne andro lontana', from Catalani's opera La Wally, and it really showcases Sarah's outstanding voice! Real gorgeous string playing in this tune as well. Sarah hits and holds an incredibly high note near the end to wow us once again! Absolutely amazing!!
Naturaleza Muerta - A beautiful pop type song with a Latin feel and some very nice guitar work. Sarah's aahs and oohs in this song give me tingles all over!
En aranjuez con tu amor - What would be the result of combining one of the greatest melodies of all time, the slow movement of Rodrigo's Concierto de Aranjuez, with the awesome voice of the greatest singer in the world? An absolutely stunning song! Sarah once again at her best, with some very beautiful guitar playing and strong orchestral backing.
In Trutina - Carl Orff's beautiful tune given heavenly treatment by Sarah! A wonderful conclusion to an absolutely superb disc!
O mio babbino caro - A bonus track recorded live in concert. This classic aria from Gianni Schicchi by Puccini, with Sarah's exquisite voice, is a real treat! Sarah once again proves she is the greatest soprano ever!
Alleluja - Another bonus track recorded live in concert. This Mozart classic from the Exsultate Jubilate is superbly done by Sarah! She handles this very difficult piece with apparent ease, her voice just soaring through the wide range of notes. My favourite composer and my favourite singer... what an awesome combination! It just doesn't get any better than this!
Additional Comments
Sarah's breakthrough album of 1997 is a superb one! A very nice blend of classical and pop music, with the London Symphony Orchestra (and chorus) on all but the first track and the two bonus tracks. This is one of my favourite orchestras, and they are in fine form for this recording! Sarah's voice is absolutely stunning as always! She just soars through all the songs, even the more difficult ones, with what seems like no effort at all. All of the songs are great! Producer Frank Peterson has helped Sarah find this new direction, and the results are truly incredible! This is one amazingly talented lady, and it is easy to see that she is a force to be reckoned with. In my opinion Sarah is the greatest singer in the world! This album I would highly recommend for all fans of Sarah's music.
Way to go Sarah!!
---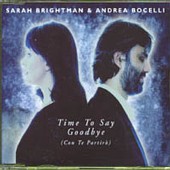 TIME TO SAY GOODBYE EP

( EastWest Records - 1996 )
My CD Review
Time To Say Goodbye - The duet. I love this song! The melody is incredible! I personally prefer Sarah's intimate solo version on this EP, but this is an awesome song and is great nonetheless! This is the same recording as the one on the above album.
Sleep Tight - A previously unreleased track. This is a very beautiful song, with some great piano and guitar accompaniment, and superb orchestration. Sarah's vocals are awesome as usual!
You Take My Breath Away - This song starts and ends with a middle east sort of chant. A very nice upbeat song in which Sarah's soft pop vocals are very beautiful. This is the same song that was previously released on the FLY album.
Time To Say Goodbye (Sarah's Intimate Version) - This is an absolutely awesome song! You just have to love this song, as it has such a beautiful melody. And Sarah's voice is simply outstanding, including some superb harmony vocals! I much prefer this solo intimate version to the duet version above.