Sarah Brightman
Symphony World Tour Concert
December 6, 2008
MTS Centre - Winnipeg, Manitoba, Canada
Concert Review
As with past shows, this one was another spectacular aural and visual production complete with on-stage frolics, dramatic special effects, and stunning outfits that Sarah is now well-known for. With the concert being in support of her Symphony album, there were of course several selections from that recording performed during the show, however almost all of them were in the first half. But Sarah once again demonstrated why she is the greatest soprano in the world, utilizing varying vocal styles and unleashing her powerful and stunning soprano voice on many occasions, even at times hitting some incredibly high notes.
For myself personally though this concert seemed somewhat restrained compared to the shows I have been to in the past. Sarah didn't move around and dance as much as before, and that's ok, because her voice alone could easily carry the show. But there seemed to be less passion and emotion exchanged between artist and audience, and that is quite unusual. And while the musical selections were predominantly satisfying, they were at times also quite puzzling. For starters I do not understand the exclusion of Nessun dorma, a stunning aria that always brings down the house and is laden with so much power and emotion. Plus the inclusion of the so called Red Riding Hood Rap, which was totally out of place with the rest of the musical selections presented, made no sense whatsoever.
I believe that this music was created to be performed with a symphony orchestra and choir, and yet there was only a seven-piece band tasked with this job. And while they backed up Sarah admirably, they did not really provide the same sort of sound or atmosphere that an orchestra can. Add to that the volume being a bit too loud to the extent that the sound distorted at times tended to detract from the performance occasionally. One of the more impressive features of the show were the two duets that Sarah performed with Greek tenor Mario Frangoulis. I have long been a fan of his, and he did not disappoint with his brilliant performance on Canto della Terra and Phantom of the Opera. Ave Maria, a duet performed with countertenor Fernando Lima, was nicely done, though I am not a fan of countertenors and I would have enjoyed it more had it been done with Mario Frangoulis. The first time I heard Running I felt it was destined to become an amazing encore piece in much the same way as A Question of Honour has been, and this was indeed what has happened. It was a pity to lose A Question of Honour as a result however, as it is a brilliant piece.
The worst thing about this concert though was that most of the special effects were basically geared for sitting directly in front of the stage, and if you were to one side or the other as we were, than the effects were considerably less effective.
CONCLUSION:
Although this concert was very good, I have to say it was not great. The aforementioned lack of emotion for me personally was the biggest thing I missed, and the sound quality was not up to the usual standards that Sarah's concerts are noted for. I initially thought that this concert might be similar to the "Symphony Live in Vienna" one, but alas it did not quite reach the calibre of that performance.

Here is the list of songs performed at this concert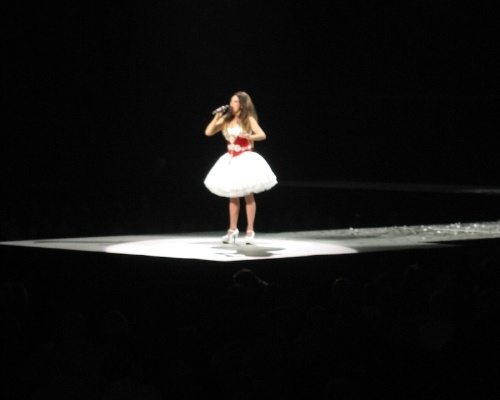 Sarah sings Time To Say Goodbye (© John Iverson)