Sarah Brightman


Harem World Tour
February 22, 2004
Winnipeg Arena Theatre Bowl
Winnipeg, Manitoba, Canada
CONCERT REVIEW
The tent flaps commence opening to the ravishing sounds of the Middle East, the pulse intensifying as Sarah emerges from the darkness to musically welcome everyone to her "Harem".
It is obvious from the outset that we are in for another fantastic evening of fantasy and imagery as presented by the world's greatest soprano! Sarah's opening set is comprised of three songs from her new album, including a spectacular performance of It's a Beautiful Day while poised high above center stage on a platform that slowly ascended to towering heights. After graciously welcoming everyone to her concert, Sarah introduces the next song and then strolls down the catwalk, smiling and waving to her adorning fans. After a performance of the beautiful Dust in the Wind, flanked by an acoustic guitar duo, she then ascends skyward on another elevating platform, this time at the front of the catwalk, to perform the touching song Who Wants to Live Forever.
Moving back to the crescent-shaped main stage, she concludes the first part of the programme with songs from three of her latest albums, finishing off with the gorgeous and emotional La Luna, and an absolutely stunning and spectacular performance of Puccini's Nessun dorma. This gorgeous aria is deftly accomplished while perched at the far end of a ramp that swung upwards and outwards from the back of the stage. Wow! The ultimate aria performed so remarkably by the ultimate diva! This piece alone was worth the price of admission, and I'm certain that it's sheer beauty and intensity brought tears to the eyes of many in the crowd like it did to mine!
Right on cue the second part of the show opens as Sarah is launched high above center-stage via guy wires for a dazzling performance of the gorgeous No One Like You. The focus then shifts back to Harem for a set of four songs, kicked off with the up-tempo dance rhythms of Arabian Nights. Included in this set is Sarah playing piano during the moving duet The War is Over, and some beautiful violin playing. The set concludes with Sarah fearlessly swinging high above the catwalk, all the while being showered by red paper flower petals and singing What a Wonderful World.
After her "Phantom" set, complete with its usual dramatics, Sarah thanks the audience for being so receptive towards her, and proclaims that it's "Time To Say Goodbye", followed by an emotional performance of her signature piece. All too soon this magnificent evening of imagination and fascination has come to a close, but a long and spirited standing ovation lures a beaming Sarah back on stage for a pair of encores. The second of these is the show-stopper A Question of Honour, with Sarah again being launched high above the stage, executing somersaults and singing this great tune, and then slowly descending back to the stage to conclude the song amidst a shower of blue and white tissue paper. The show literally ends with quite a bang!
CONCLUSION:
Another brilliant five-star performance from our charming and beloved Sarah! This show had it all - a glorious voice just brimming with emotion that sparkled and soared, a beautiful lady in a myriad of gorgeous costumes, breath-taking stage creations and dazzling special effects, and a superb cast of backing musicians and dancers! It is very apparent that this exceptionally talented lady enjoys performing, and she draws a lot of energy from her captivated audience. Her stage presence and aura is amazing, and she just glows when she sees how her performances delight everyone. Sarah has stated that she loves fantasy, and this concert certainly transported the audience to a fantasy world for the duration. And musically there was something for everyone - from stunning arias and ballads to songs with pulsing dance rhythms and ethereal pop tunes. Definitely a show not to be missed, and a real crowd pleaser!
Thank you Sarah for once again taking us on an enchanted magical mystical journey to a far away place!

Here is the list of songs performed at this concert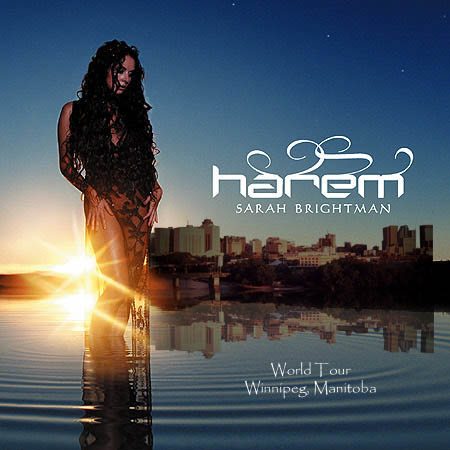 (Artwork courtesy of Rochelle)