Sarah Brightman is for me unquestionably the GREATEST singer that I have ever heard. She possesses ALL the qualities that make up a truly great musical artist... an absolutely stunning voice, the most passionate and emotion filled singing you will ever be accorded, a flair for finding great music to perform, and superb musical arrangements and production! Her music is absolutely glorious and out of this world! Music that will warm your heart and caress your soul. She is truly deserving of the title 'Angel of Music', as her music is simply heavenly! And despite her fame, she is not your 'typical' superstar... but a sweet, sincere, caring, and very real person!
This web site is devoted to one very special lady and her music !!
---
This site was updated on

December 11, 2022
---
I welcome your comments and inquiries about Sarah Brightman

Feel free to contact me
And please sign my Guestbook
Photos and sound courtesy of Angel Records
(The background music is the song La Califfa)
Visit the Official Sarah Brightman Website
Interested in lyrics to Sarah's great songs - Visit Jos van Geffen's site
---
Please sign my guestbook... I welcome your comments!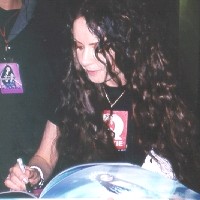 (Photo © John Iverson)
View my previous guestbook entries in a downloadable PDF document
View my website emails in a downloadable PDF document
---
This page has been visited
times since December 26, 2000
---

This site is optimized for a resolution of 1024 x 768
Web design and maintenance by
Hosting for this site is provided by

the SDF Public Access UNIX System