(The background music is an excerpt from the song La Luna) (Courtesy of Angel Records)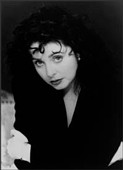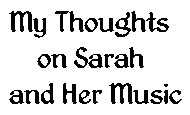 Sarah Brightman is without question the greatest singer that I have ever listened to and experienced! It has been said that an artist with astonishing talent only comes along once during your lifetime, and for myself Sarah is definitely that once in a lifetime musical artist. She is a real gift to the music world! Her beautiful crystalline voice and unwavering passion set a standard for all others to try and achieve! The sheer vocal range and incredible voice shifts she displays leave you shaking your head in amazement! And unlike most, she is a leader, not a follower, continually exploring the boundaries of the human voice while developing her own unique musical style that is true to herself, and simply amazing to listen to. The results are absolutely stunning, both in concert and on recorded medium! Sarah is a true superstar, but does not carry the ego or attitude that most do, being so very real and down-to-earth. She has found her niche in the music world, and I for one am totally thrilled at the prospect of a continued source of such incredibly awesome and inspiring music!
Music has always been a big part of my life, and until now it has tended to lean more towards instrumental type music. Yes there are some great singers that I like a lot, but in my opinion none are as great as Sarah. She is quite simply put 'The Very Best'. I somehow never realized just how beautiful the human voice could be, particularly the soprano voice. And this is by far the most beautiful voice in the world! And I also always thought that you had to understand the words of a song to truly feel something from it. But that is simply not true, and Sarah has opened my mind and my heart and has shown me just how amazing the human voice really is! She possesses ALL the qualities that make up a truly great musical artist... an absolutely stunning voice, the most passionate and emotion filled singing you will ever be accorded, a flair for finding great music to perform, and superb musical arranging and production! She is not just another pretty face, for this lady has substance, and her real beauty lies deep within. This inner beauty is mirrored throughout her performances both on stage and in the recording studio. She sings her unique blend of classical and ethereal pop music honestly and fervently from her very soul. Music that is absolutely glorious and out of this world! She is truly deserving of the title 'Angel of Music', as her music is just heavenly!
My heart and soul immediately bonded with Sarah's music upon first hearing it, and that bond has since grown much stronger. Never before in my life has a musical artist had such a tremendous impact on my inner being. The feeling, expression, and emotion that she melds into her music, along with her exceptional voice, are simply incredible, and in my opinion unsurpassed! Never before has a singer produced so many songs that have touched my soul, filling my eyes with tears of joy! And Sarah just continues to amaze me by adding new songs to this growing repertoire that continue to help me explore my own inner world. For she creates music that has more substance than most anything you have ever heard! And the end result for me personally is that Sarah's music has been and continues to be a great source of inspiration, and has opened up the creative and emotional side of my life. To this end I wrote her a poem, and I truly hope that she was touched by it. "To you Sarah I am forever grateful for all that you do and have done for my heart and soul".
Rolf Lovland of the ensemble Secret Garden says, "The power of music reflects the light of our heart's and guides us out of darkness." This is so profound and appropriate given how very personal and powerful music really is for many people, myself included. Some people simply don't understand how your soul can bond to an artist's music, and that's a real shame. For Sarah's music is so incredibly compelling and emotional that it will lift your spirits, soothe your soul, and be a real source of inspiration! When I finally met Sarah, I gave her a big warm hug of thanks for everything! And she in turn reciprocated, because that is the type of person she is... a real human being that cares about what she does and how she does it, cares about people, and is truly appreciative of her amazing gifts. She is definitely one of the world's greatest treasures!
I know for myself just to see Sarah's picture is a vivid reminder of how great she truly is, as she radiates her inner beauty and fills my mind and heart with her incredible music! And consequently you just can't help but be inspired and moved by this very special lady!
Simply amazing!!
We all love you Sarah. You are truly the greatest !!
Love,