(The background music is an excerpt from the song Il Mio Cuore Va) (Courtesy of Angel Records)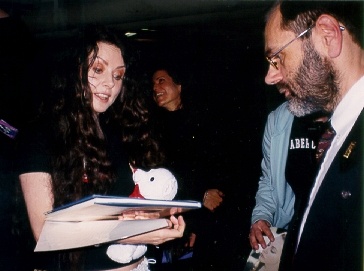 March 10, 2001 - At the conclusion of Sarah Brightman's La Luna World Tour show, the excitement and nervousness continued to build as we awaited our ensuing encounter with the 'star' of the show. We had been instructed by Sarah's management rep Tina to meet her at the right side of the stage, and she would then escort us backstage. We waited patiently for her, and finally she emerged and checked to see if everyone she was expecting was present. Then she asked us to wait a bit longer while Ms. Brightman showered and changed.
So just what was going through my mind as I awaited this long anticipated meeting? I had a good idea of what I thought Sarah would be like, based on interviews and articles that I had seen and read. And her glorious music... to me it speaks volumes as to who she is. I have such a strong emotional bond to it that I was somehow able to imagine what kind of a person she would have to be to have crafted this outstanding art! I envisioned a person who is sincere, kind, loving, and modest. An extremely gifted person who cares deeply about what she does and how she does it, and really cares about people. A person who knows herself, is true to herself, and is not concerned with what people think she should be. Not at all like your typical 'star', but a truly great star nonetheless! Would it all be true? I was certain that it would have to be!
Soon Tina returned to lead us to the backstage meeting area. Upon our arrival there, we were instructed to wait a little longer for Sarah to appear. We were told that she was aware of whom we all were, and what our intentions might be. She also told us that there was not a great deal of time, as they had a 14-hour drive ahead of them. We anxiously awaited Sarah's arrival.
Finally Sarah emerged from the backstage area, dressed in casual clothes and runners. She was more petite than she appeared on stage, and seemed a bit shy. Her beautiful long hair was still slightly damp from the shower, and her natural beauty shone brightly. She appeared to be a little tired, which is understandable after such an energetic and emotional performance. And that long drive that still lay ahead. But she took the time to meet with everyone there, shaking hands and signing autographs. Our group was the last to meet with her. My wife Jennifer gave her a big hug, spoke briefly, and had her sign a couple of autographs. My sister shook her hand and also obtained an autograph.
I was the last, and Tina kindly introduced Sarah to me. I sensed that Sarah knew a bit about me, as I was fairly certain that she had received the poem that I had sent to her, and also that Tina had discussed my request with her. I thanked her for everything as I offered her a hug, and she gladly took the hug, and as I released her she hugged me again on the other shoulder. I then presented to her the special gift we had selected especially for her, a great memento of Winnipeg. It was the book 'Henry Kalen's Winnipeg', full of photos by this local photographer, and published locally by McNally Robinson. I had included inside the book another copy of the poem that I had written for Sarah, a special welcome to Winnipeg mini poster that I had done, and a copy of my radio show poster. I had wrapped the book in a beautiful blue ribbon. Sarah thanked me, and asked me if she could open it. I said, "Yes, of course!" She struggled to untie the ribbon, so I told her just to rip it off, but she didn't want to do that. She had Tina untie it for her. She opened the book and responded, "This is great! I love books." Then I showed her the inscription that I had put into it which read: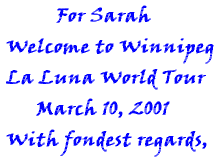 And was then signed. I also showed her the extras that I had enclosed. She then said, "This is brilliant". I sensed that she really liked the gift, and would cherish it. I felt good inside that we had picked a really nice appropriate gift for her. After autographing the concert program that I had, as well as our La Luna poster, she bid us all a final farewell, and retreated toward the backstage area. We all said goodbye Sarah, wished her well, and then departed for home. She is so cool! What a thrill it was to meet her! We were now so high that we knew we wouldn't be able to sleep, so we went for coffee and chatted a while.
Well, you now ask, was Sarah at all akin to my expectations? The answer is a resounding YES, and then some! Her presence really touched my soul. Words alone cannot express what a pleasure it was to meet her. She is so sweet, so genuine, so warm, and so charming. She is a truly beautiful person, radiating this inner beauty and sharing it with those fortunate enough to come in contact with her. She is a real 'star', so incredibly talented, sharing these wonderful and amazing gifts with everyone. Yet at the same time she is modest, down to earth, and very caring. Her warm sunny smile will brighten the darkest of days! And these qualities that she possesses are skillfully mirrored throughout her performances, both on stage and in the recording studio. She really cares deeply about the product she produces, expecting it to be nothing short of outstanding. It is no wonder that her music is so beautiful, so inspirational, as it gently caresses your soul. To me there is no other musical artist comparable to Sarah Brightman! She is quite simply put "THE GREATEST"!
Although my encounter with Sarah was much briefer than I had hoped for, I still felt rather fortunate to have had the opportunity to meet her. I truly hope that we were able to make her feel extra special, because she is one VERY SPECIAL LADY! There is so much more that I wish to say to her, and hopefully someday soon I will get that opportunity when time constraints are not so tight. She will always be welcomed here with open arms, and we would cherish the opportunity to show her around this city when she returns. Hopefully the book will pique her interest, and draw her back here for a visit.
"I shall never forget my encounter with you Sarah, as I hold a special place in my heart for you and your outstanding music. Our meeting only solidified my feelings on what kind of person I always knew you had to be, to be able to produce such incredibly beautiful and soul touching music! Don't ever change a thing... you are without question the very best!"
Finally, a few words of thanks:
To you Sarah, my heartfelt thanks for coming here and sharing your amazing gifts with us, and for taking the time out from your busy schedule to say hello and sign autographs. Your endearing presence was truly appreciated. We will always love you and cherish you!
To Tina and Jürgen, thank you for listening, understanding, and then affording us the opportunity of meeting with Sarah. Words alone cannot express our gratitude.
To Raelene, thanks so much for doing the beautiful inscription in the book for us.
To my big sis Mary, thanks for taking the super photographs when it was my turn to meet Sarah.
---

(All photos on this page © John Iverson)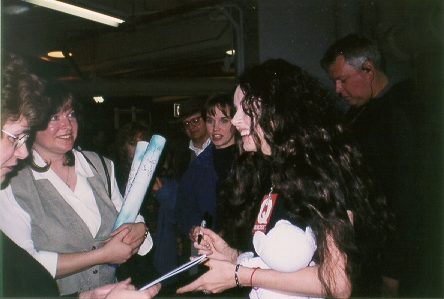 Sarah meets my wife Jennifer and my sister Mary.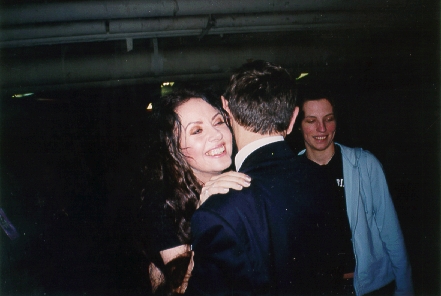 A special moment with a very special lady!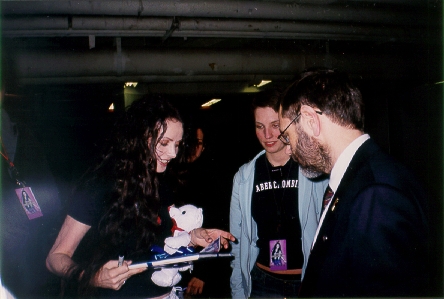 Sarah receives her special 'Welcome to Winnipeg' gift.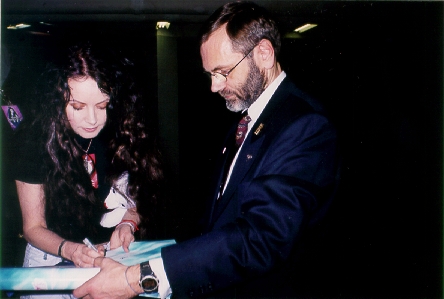 Sarah autographs our La Luna Poster.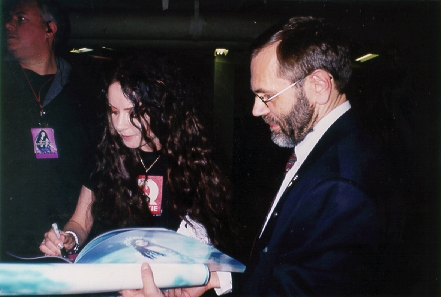 And Sarah autographs my La Luna program.