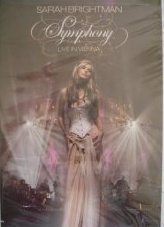 SYMPHONY LIVE IN VIENNA

( Manhattan/EMI - 2008 )
My DVD/CD Review and Track Listing
This is a wonderful concert that Sarah performed and recorded in Vienna after the release of her Symphony album, and prior to the Symphony World Tour. The concert was staged in a magnificent church, with Sarah accompanied by the Ambassade Orchestra Vienna, a group of choristers, and eight musicians. Sarah also had three guest singers, tenor Alessandro Safina, counter-tenor Fernando Lima, and Chris Thompson.
During this concert Sarah performed almost all of the songs on her Symphony album, two Lloyd Webber pieces, the beautiful Schubert Ave Maria, and of course her signature piece Time To Say Goodbye. Sarah's vocals were outstanding throughout the entire concert, and the two duets performed with tenor Alessandro Safina were absolutely wonderful! The orchestra that accompanied the singers was well-balanced, and they provided a solid musical backdrop for all of the songs. The video recording was very well done, and the church provided an amazing setting and incredible ambiance for this concert, as well as exceptional sound. Sarah wore a few beautiful outfits over the course of the evening, and she looked stunning!
The CD has the same live concert as the DVD, plus a bonus piece, Vide cor meum. This piece is a studio recording done with the London Symphony Orchestra, Gregorian, and the Crouch End Choir. The music comes from Dante's "La Vita Nuova". There is also bonus material on the DVD consisting mainly of interviews with Sarah.
I did not watch this video until after Sarah's Symphony concert here, and after viewing it my initial reaction was why weren't the Symphony World Tour concerts similar to this one. Anyway, this is a fabulous concert, and a welcome addition to my Sarah library!