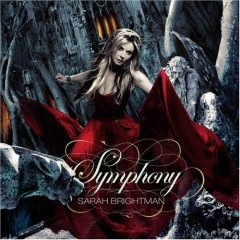 SYMPHONY

( Manhattan Records / EMI - 2008 )
My CD Review
Gothica - The drama begins to unfold in this very ethereal instrumental opening, which is infused with the rumbling of thunder. Sarah likes to create a mood on her albums this way, and it serves as a great lead-in to the album's opening song.
Fleurs du Mal - A song whose style is described as "gothic rock" is very dance-like and powerful, with a very theatrical feel to it. Sarah provides outstanding vocals throughout this great song, especially in the opening vocalise section when her voice really soars. I found the choral work within this song reminiscent of Carmina Burana by Carl Orff. (Sung in English)
Symphony - The album's title track is a very beautiful pop-style ballad, with exquisite vocals by Sarah. A great title track to a superb album! (Sung in English)
Canto Della Terra - A duet with Italian tenor Andrea Bocelli. Sarah seems to bring out the best in Andrea Bocelli, and he does a wonderful job with her on this stunning crossover duet. This song has a very powerful and dramatic feel to it. (Sung in Italian)
Sanvean - A very beautiful and ethereal vocalise with a lovely melody.
I Will Be With You (Where The Lost Ones Go) - A duet with rock singer Paul Stanley (KISS). This is a great rock song, but I didn't care that much for Paul Stanley's voice. I think that a better rock singer would have made this song more enjoyable - Sir Elton John would have been my first choice. (Sung in English)
Schwere Träume - Music by Gustav Mahler, from the Adagietto movement of his Fifth Symphony. Mahler's tranquil music is absolutely gorgeous, and Sarah's beautiful voice enhances the melody for the listener! One of the highlights of this album for me. (Sung in German)
Sarai Qui - A duet with Italian tenor Alessandro Safina. This is also a classical crossover duet, and Alessandro Safina has a powerful and emotive voice which blends well with Sarah's, making for another stunning duet. This is the best of the four duets on this album. (Sung in Italian)
Storia d'Amore - This crossover piece has an absolutely gorgeous melody and exquisite vocals by Sarah, and is very powerful. There is also some very beautiful string work in this song. (Sung in Italian)
Let It Rain - A nice pop song that Sarah performs in her unique ethereal style with soft vocals. (Sung in English)
Attesa - Music by Mascagni, from the Intermezzo Sinfonico of his opera Cavalleria Rusticana. Sarah's voice is absolutely stunning on this piece as she displays her full vocal prowess and range over an absolutely gorgeous melody. This song is my personal favourite on the album. (Sung in Italian)
Pasión - A duet with Spanish countertenor Fernando Lima. I am not a fan of countertenors, but this is nonetheless a very beautiful song. I think that another soprano, rather than the countertenor, would have made the song even better. There is some very beautiful Spanish guitar work in this piece as well. (Sung in Spanish)
Running - Music in the beginning and ending sections by Gustav Holst, drawn from the Jupiter movement of his orchestral suite The Planets. This song was the IAAF's Green Project Charity song, which Sarah performed in 2007 at their Championship opening ceremonies in Osaka, Japan. The structure of this piece is similar to that of A Question of Honour, with the classical music opening and closing the song, sandwiching an upbeat pop-style center section that has lots of intensity and a very important message. The style of the central part of the song reminded me a little of the great Swedish pop group ABBA. There is some great violin work near the end of the song as well. I really liked this song, and it will probably end up being a show-stopper encore in Sarah's future concerts in much the same way as A Question of Honour has been in the past. (Sung in English)
Fleurs du Mal (Reprise) - You have to wait for about a minute after Running is over to hear this bonus track, which is a short and very dramatic instrumental version of Fleurs du Mal. The LSO showcases their awesome sound to end this amazing album!.
Additional Comments
Orchestral backing by the world's greatest orchestra, the London Symphony Orchestra.
This album contains a wide range of musical styles from the world's greatest soprano. And as always, Sarah injects her music with an abundance of passion, power and feeling, as we are now very accustomed to experiencing. Plus the diversity of this album means that there is something to please everyone, with beautiful classical melodies, Sarah's ethereal pop stylings, and even some edgy rock music. And included on the album are four duets, three with classical singers and one with a rock star.
I was elated to find lots of wonderful classical crossover music on this album, and Sarah chose some very beautiful classical melodies for them. Her voice is as stunning as ever, particularly on crossover material like Attesa and Storia d'Amore. Once again Sarah has set a very high standard in the classical crossover genre, and she is truly in a class by herself. Her music has evolved since her last studio album five years ago, and the results have definitely been worth the wait! I would have liked an opera aria or two included, but nonetheless Symphony is an absolutely stunning album!
I am certain that this album will generate a world tour, and I am really looking forward to experiencing Sarah live in concert once again!
Bravo Sarah - You have delighted and amazed me once again with another brilliant recording!