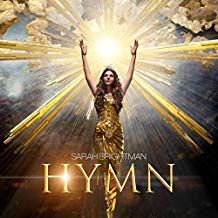 HYMN

( Decca Gold - 2018 )
My CD Review
Hymn Overture - A short cinematic style introduction to the album, which leads into the title track.
Hymn - Sarah's version of the British prog-rock band Barclay James Harvest's song.
Sogni (Featuring Vincent Niclo) - A great duet with the French tenor Vincent Niclo. This powerful piece showcases Sarah's stunning soprano voice and Vincent's great tenor voice. Although not credited in the liner notes, the piece definitely utilizes the music of Georges Bizet's Au Fond du Temple Saint.
Sky and Sand - A light pop tune sung Sarah style.
Canto Per Noi - The music of Ennio Morricone in an adaptation of Lontano. The song has a nice acoustic guitar intro, and Sarah sings the piece very beautifully.
Fly to Paradise (Featuring the Eric Whitacre Singers) - Another pop song with strong backing vocals by the Eric Whitacre Singers.
Gia Nel Seno (La Storia di Lucrezia) - A very beautiful song that Sarah sings with power and emotion.
Follow Me - A nice pop tune that flows very smoothly.
You - A beautiful song that includes a nice acoustic guitar intro. Sarah utilizes her vocal range in this piece.
Better is One Day - Another pop tune a la Sarah.
Tu Che M'Hai Preso Il Cuor - This song is set to the music of Franz Lehar. Sarah's voice is powerful in this piece.
Miracle (Featuring Yoshiki) - Sarah's version of the Japanese superstar Yoshiki's song. Her voice soars once again in this dramatic cinema style song. Yoshiki, who plays piano and drums and wrote this piece, also performs during the song.
Time To Say Goodbye - A new rendition of Sarah's signature song, with new lyrics written by Sarah and sung in English. A fitting end to this great album!
Additional Comments
It is truly wonderful that Sarah has returned to the style and quality of music that we have come to know and love. After the unremarkable album Dreamchaser, Sarah has re-emerged with a very beautiful and stunning new album that sees her return to the form that has produced so many great albums. There is a nice balance of songs and singing styles on the album, and the backing musicians and choirs are in top form. The London Symphony Orchestra provides a stunning bacdrop to the pieces, showing once again what a great orchestra they are. If the Dreamchaser album turned you away, don't miss this opportunity to re-unite with Sarah. This is a must have album for all Sarah Brightman fans!
Bravo Sarah, well done!!