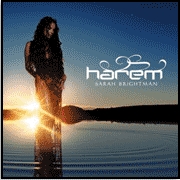 HAREM - A DESERT FANTASY

( Angel Records - 2004 )
My DVD Review and Track Listing
"A one hour soundscape that brings to life all the magic and mystery of the East through hypnotic rhythms, and gorgeous epic settings. Filmed at ancient sites in places such as Morocco and Egypt, this desert fantasy takes the viewer on a dazzling musical journey of cinematic proportions." Also included on this DVD is a 30 minute behind-the-scenes documentary on the making of these videos, as well as a photo gallery.
I obtained this DVD packaged together with the Harem CD in a special "Canadian Tour Limited Edition" Harem set. This DVD is basically a series of videos by Sarah, with the majority of the songs being from the Harem album. The videos of Anytime, Anywhere and Time To Say Goodbye are new, and these songs were also part of Sarah's Harem World Tour concerts. The live performance of Nessun dorma is taken from the La Luna concert DVD.
These videos are wonderful, and the scenery is absolutely breathtaking! Sarah's performance is as stunning as ever, and very convincing! The documentary is also very interesting and informative, as we are given a good idea of how these videos were created. And Sarah is as charming as ever!
The only unfortunate part of this DVD/CD set is that I now have two copies of the Harem CD. But the DVD is well worth having, and a good compliment to the album!