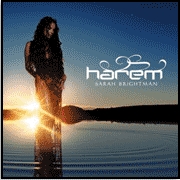 HAREM

( Angel Records - 2003 )
My CD Review
Harem - A very sensual song, with a strong middle-eastern flavour to it. The superb string theme that opens this song returns later, and also appears briefly in some of the other songs. About midway through the song it picks up a techno groove beat for the duration, and thereby reveals the wide range of colours, rhythms and imagery that you will discover throughout the album. Sarah also displays a wide vocal range, therefore I believe that this song really sets the tone and feel for the entire album, and was a good choice not only as the title track but to open the album as well. The song is an adaptation of "Cancao do Mar," a classic from Portugal's fado tradition. Sarah and Frank Petersen wrote new lyrics for the melody, in which the singer hears a connection between Middle Eastern sounds and the ancient inspirations of fado.
What a Wonderful World - This soul-filled ballad performed long ago by Louis Armstrong is initially given a delicate treatment by Sarah, but becomes a bit edgier later on. I found the drums a bit loud and distracting in some parts of the song, however. The words to this song are quite wonderful though, and Sarah performs it really well!
It's a Beautiful Day - A variation of the album's title track string theme appears briefly within this song, which is highlighted by the music of Giacomo Puccini. Sarah weaves Puccini's operatic aria Un bel di from Madama Butterfly in her full soprano voice around the songs up-tempo main theme, which she sings in her superb pop voice! This is really the only time that we get to hear her glorious bel canto soprano voice, and it is absolutely stunning as usual!
What You Never Know - Some alluring piano and guitar work highlight this beautiful tune, as well as a lush string arrangement. Sarah gives the songs lyrics a delicate but solid treatment vocally, creating a whimsical pop-style ballad. This is a great song that is well written, and it suits Sarah's gentle pop voice perfectly!
The Journey Home - The song starts off in cinematic fashion, utilizing a mid-eastern type chant. About half way through it settles into a techno beat and becomes quite danceable. This is a nice tune with light but exquisite vocals by Sarah. The song comes from Indian film composer A.R. Rahman's hit musical Bombay Dreams, produced in London by Andrew Lloyd Webber.
Free - Another sensual song, with Gregorian chant style backing vocals performed by Gregorian, an ensemble that Sarah has performed with. There is some stunning and powerful violin playing by Nigel Kennedy in this tune that helps make it a great emotional pop song. I would have preferred real drums to the programmed ones here however. This song was originally written in German about the cathartic end of a love affair, and later translated to both English and French. Sarah had a hand in writing the lyrics for this song.
Mysterious Days - This song has lots of drive, with a hip mid-eastern dance rhythm throughout, and great percussion. The tune is an evocation of American expatriates in Marrakech. Singer Ofra Haza provides additional vocals on this tune.
The War Is Over - Some exquisite acoustic guitar work introduces this song and envelops the tune beautifully, assisted by the stunning and emotive playing of violinist Nigel Kennedy. You can fully understand why Sarah indicated his playing brought tears to their eyes! And there is also some wonderful choral backing performed by the Bach Choir in this wonderful duet between Sarah and the Iraqi singer Kadim Al Sahir, whose presence is quite moving! The song embraces an end to the conflicts in love, and is an extremely powerful and emotional pop ballad!
Misere Mei - A short and very beautiful choral interlude performed by the Bach Choir that employs the music of Gregorio Allegri. This is a brief excerpt of Allegri's lengthly Miserere Mei, Deus, so it looks like the title is either misspelled, or is some sort of variation of the original title. The song melds seamlessly into the subsequent song Beautiful.
Beautiful - The superb choral work in Misere Mei continues in this song. Also prevalent is some very nice string work and solo violin playing. Sarah says "a feel of space and wonderment and great calm" inspired this very light and airy pop tune.
Arabian Nights - The song starts off slowly, with Sarah singing tenderly and sensually. It then proceeds to pick up middle-east type rhythms and chanting. A very dance-like rhythm then takes over the song for a while, but eventually the song returns to a ballad-like state and becomes more electronic. But the steady beat does return one more time. Sarah's voice soars in this tune about love, the desert, passion and fire! As you would sense by the tempo changes, the song is composed of five parts, and Sarah had a hand in composing some of the lyrics. The songs cinematic feel very much captures the spirit of the movie that inspired it!
Stranger in Paradise - The melody in this musical theatre type piece is absolutely gorgeous, and it draws from Alexander Borodin's voluptuous Polovtsian Dances for its rich orchestral textures, as well as the music of two other notable Russian composers, Alexander Glazunov and Nicolai Rimsky-Korsakov. The London Symphony Orchestra provides orchestral backing on this one occasion only, and choral accompaniment is by the Bach Choir. The song is very airy, and Sarah's vocals are glorious! The song was also created for the musical Kismet.
Until the End of Time - An exotic song with another great melody, and delicate vocals from Sarah. She wanted "the feeling of soaring strings and fantasy lyrics, creating that sense of space and the freedom of journeying" when the song was written, and that has definitely been achieved here. The lyrics to this song are entirely Sarah's, and it is a great conclusion to our captivating musical journey through the Middle East!
Tout Ce Que Je Sais (Bonus Track) - The same song as What You Never Know, except with the lyrics in French. Even though the liner notes indicate the Bach Choir performs this is obviously a misprint, as the music is basically identical to the English version. This bonus track is for the Canadian release of the album only.
Guéri de Toi (Bonus Track) - The same song as Free, except with the lyrics in French. The ensemble Gregorian performs on this track, even though the liner notes do not indicate this.This bonus track is for the Canadian release of the album only.
Additional Comments
Being a lover of Sarah's glorious bel canto soprano voice, this album is not totally what I was hoping for, but it is nonetheless a very satisfying ethereal pop recording that is both creative and exciting, and also skillfully produced. And Sarah's performance once again reaches or exceeds the high standards we've come to expect from her time and again. Absent from the album are classical songs and opera arias that really showcase her amazing crystalline voice, with the exception of the song It's a Beautiful Day, where she treats us to a dash of Puccini from Madama Butterfly. In its place, however, is a very strong pop vocal performance, with Sarah displaying an abundance of creativeness and imagination throughout the tracks on the album, and her usual high degree of emotive expression! Her voice soars from light and delicate on songs like What You Never Know and Until the End of Time, to strong and powerful on songs like Stranger in Paradise and Harem, as she weaves her magic through the threads of this superb middle east themed album! The brilliant and emotive violin playing of Nigel Kennedy on some of the tracks adds even more intensity to the overall breadth of this endeavor! The Iraqi singer Kadim Al Sahir joins Sarah for a beautiful duet ballad The War is Over that is both powerful and passionate, and the aforementioned Nigel Kennedy intensifies this fervor! I think that this is my favourite song on the album! The Prague Symphony Orchestra provides outstanding orchestral collaboration on all but one of the album's tracks, and the Bach Choir presents some wonderful choral accompaniment on a few of the tracks.
Overall I would have to say that this is a terrific album, with plenty of variety in rhythms, textures, and vocal expression! Definitely one of the best if not the best pop album you can buy. There are some wonderful melodies on this album, and Sarah knows exactly what to do with them. She does an outstanding job of sharing her artistic gifts with us once again, and continues to lure us into her amazing world of fantasy and imagination! I would have to say that this is definitely her most personal album thus far, as she did a fair bit of the songwriting and production for it. For me personally the only deficiencies were the lack of operatic style songs, and the commercial feel that the album possesses, particularly with the techno beats and such. But this is only minor criticism. Sarah doing an all-pop album will only serve to draw more fans to this amazing singer! My only hope is that all this commercialism does not "spoil" her or taint her persona in any way.
The limited edition CD Harem, which costs only slightly more than the regular Harem CD, has a bonus DVD packaged with it all about the making of this album.
Sarah Brightman is without question the greatest singer in the world, classical or otherwise, and with Harem she has once again proven that!
Bravo Sarah!