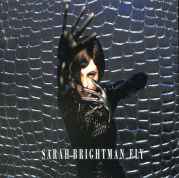 FLY II (FLY)

( EastWest Records - 1995 )
My CD Review
DISC 1:
The Fly - The song opens and closes with the buzzing sound of a fly. An ethereal pop tune, in which Sarah's voice really soars.
Why - An electric pop tune with lots of drive.
Murder in Maryland Park - Sarah's soft pop voice is used for this song, with tasteful piano accompaniment that may be Sarah herself playing. There are some nice harmony vocals, as well as a great electric guitar solo at the end.
How Can Heaven Love Me - A duet with Chris Thompson, who provides some good vocals. Sarah utilizes her soft pop voice on this duet. The ending is somewhat abrupt.
A Question of Honour - This is an incredible song, my favourite on this double album! The tune starts off with the classic Catalani aria 'Ebben?... Ne andro lontana' from his opera La Wally, sung in traditional fashion. With a clap of thunder the aria then picks up a beat courtesy of Alan Parsons (think Mammagamma), and moves along until it flows seamlessly into the song A Question of Honour. Eventually another clap of thunder slows it down again, it loses the beat, and mysteriously transforms back into the opera aria. Sarah's vocals are absolutely superb on this song, and for me this tune is a sign of things to come. Sarah included this great track in her La Luna World Tour programme.
Ghost in the Machinery - An electric pop song, with a techno-type beat. Strong vocals by Sarah throughout.
You Take My Breath Away - This song starts and ends with a middle east sort of chant. Sarah's soft pop vocals are very beautiful in this song. A nice upbeat song with an Alan Parsons sound within it.
Something in the Air - A good duet with Tom Jones. Sarah's soft pop voice is again front and center, and Tom sings with his usual flair and emotion.
Heaven is Here - Very smooth pop vocals by Sarah on this one. A beautiful tune.
I Loved You - This song has a strong techno beat, and Sarah uses a voice that is different than what I am used to hearing. Her voice is lower pitched, and almost drone like.
Fly - This song starts with NASA space chatter, and Neil Armstrong's historic words as he sets foot on the moon (does La Lune come to mind?). There is a haunting sounding flute played in the beginning, and the song then picks up a military sort of drum beat. There are only a few words sung within this song.
DISC 2 (Rare Tracks):
Once in a Lifetime - Beautiful sensual pop vocals sung by Sarah on this great song. There is a steady beat prevalent throughout the song, giving it lots of drive. There is some nice acoustic guitar work on this one as well.
First of May - This is a live version of the Gibb Brothers penned song, but not the one recorded at the Christmas concert in Vienna. Sarah's smooth voice is exquisite throughout this tune!
How Can Heaven Love Me - A different mix of the duet with Chris Thompson, this time with a disco type beat. Sarah uses her cute little pixie voice for this version. There is no indication that Chris Thompson is featured here, as the other two versions indicate, but he definitely sings on this one too.
Desert Rose - A very beautiful symphonic motion picture type score. Sarah's vocals are quite stunning on this song! Included is some nice piano work, possible provided by Sarah herself. Simply put a very beautiful song!
Do You Wanna Be Loved? - A steady beat throughout this song, and strong pop vocals by Sarah. Steel drums are utilized effectively.
Hurry Home - A well orchestrated tune, with some nice keyboard work. Sarah's vocals are just exquisite during this beautiful song!
The Same Thing to You - A gentle pop tune with smooth vocals by Sarah, and some nice acoustic guitar work.
Rain - Opens with the sound of falling rain. An electric song, with lots of drive and strong vocals provided by Sarah.
He Moved Through the Fair - An ethereal song with a bit of a celtic feel to it. This is a gorgeous song, with very beautiful vocals. The song ends far too soon for my liking.
Starship Troopers - A redo of the disco hit I Lost My Heart to a Starship Trooper that Sarah had way back in the disco era. The beat is more techno-like this time, with plenty of drive, and Sarah provides some good vocals. It reminds me a bit of ABBA.
On the Nile - An outstanding song, with Sarah providing awesome vocals! I love the oohs in this song, as is usually the case when she does them. At just over a minute in length, far too short for such a great song. I hope that some day she will redo this song, and make it much longer.
How Can Heaven Love Me - The third mix of this tune on this album. Chris Thompson again provides good vocals on the duet, with Sarah using her light pop voice this time. The ending is somewhat abrupt. I don't detect much difference between this version and the one on the first disc.
Once in a Lifetime - A different version from the one at the start of this disc. This one has a gorgeous string arrangement, and I much prefer it over the other version. An absolutely beautiful song, with great vocals by Sarah!
Additional Comments
The double CD Fly II is a recent re-issue of the original Fly album, with a bonus CD composed of rare tracks. There are no details about the second disc in the liner notes, only the original disc. There are some real standouts on this two disc set, particularly A Question of Honour, Desert Rose, Hurry Home, and On the Nile. To me this album is an indication of the direction that Sarah's career was taking, and a good indication of what was soon to follow. While the songs are primarily all pop tunes, a hint of classical is evident. So far, this CD is only available for purchase at the La Luna concerts. A great album, and a must buy for all true Sarah fans!