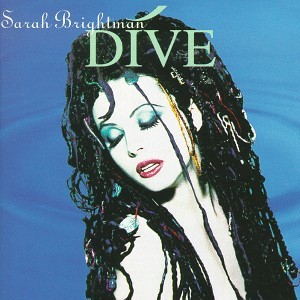 DIVE

( A & M Records - 1993 )
My CD Review
Dive - The title track is a very brief spoken introduction to the watery theme that weaves its way throughout this pop flavoured disc.
Captain Nemo - An ethereal pop tune with lots of drive and rhythm. Sarah's beautiful voice front and center on this one with a great vocal performance! One of the standouts on this album!
The Second Element - A great pop tune with good rhythm. Sarah provides some smooth vocals throughout. Effective keyboards here, and a great electric guitar solo to end the song.
Ship of Fools - A very smooth flowing pop tune, with some great keyboard work and guitar solos. Sarah provides another solid vocal performance. The song flows seamlessly into the next one.
Once In a Lifetime - A nice pop tune with a bit of a techo beat to it, and Sarah providing great vocals with a bit of a sensual feel. This song reminds me a bit of Enigma, who producer Frank Peterson had worked with.
Cape Horn - A short instrumental track with narration from the film 'Mutiny on the Bounty'.
A Salty Dog - An ethereal pop song in which Sarah's voice just soars, as if carried by the waves. She hits some beautiful high notes in this one to send shivers up your spine!
Siren - A vocalise of sorts, basically an instrumental tune with lots of angelic aahs by Sarah. Just heavenly! I wish it wasn't so short.
Seven Seas - This pop tune has a beautiful melody, with Sarah providing great vocals. Some very nice guitar work in this song as well.
Johnny Wanna Live - This pop song starts off smoothly with a bit of a sensual feel, but picks up steam as it progresses. There is some great guitar and keyboard work throughout.
By Now - A nice pop song with a programmed beat. A strong vocal performance by Sarah prevails.
Island - An ethereal pop tune with a bit of a sensual feel to it and some smooth vocals by Sarah.
When It Rains in America - This pop song opens with the rumble of thunder, and then picks up a steady beat. Some angelic aah's in the backing vocals make for a very nice song.
La Mer - Another standout on this disc! My favourite! A very ethereal song with stunning vocals as only Sarah can provide. Also has shades of the group Enigma. Some awesome keyboard work prevails throughout the song.
The Second Element II - Yet another standout song! A very folky sort of song, with some superb acoustic guitar and slide guitar work, and a strong vocal performance by Sarah. Add some great choral backing to the mix and you have a superb song! The sound of seagulls and waves along with the choir ends this superb water themed pop album.
Additional Comments
Sarah flexes her pop muscles on this album, which does not contain any classical or classical crossover songs that I find really showcase her outstanding voice the best. But what you do find is a great selection of pop tunes, some with an ethereal feel to them, and a superb vocal performance by Sarah. This is her pop voice at its best. A solid album, with some great songs and songwriting, and lots of energy. Sarah also has a hand in co-writing the lyrics to some of the songs. The influence of Frank Peterson and his association with Enigma is quite evident on some of the selections on this album. For fans of Sarah's more recent albums, which contain a superb mix of pop and classical music, this will seem quite different. But I think that this album helped her discover who she is, and in what direction she wanted to go musically. It allowed her to display her vocal talents in the pop genre, and it is a very well done album. I believe this to be one of the stepping stones in creating what has now become Sarah's unique and outstanding musical style. A must buy for all devoted Sarah Brightman fans!