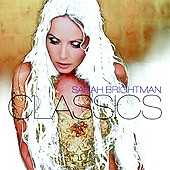 CLASSICS

( Angel Records - 2001 )
My CD Review
Ave Maria - A NEW recording with the Royal Philharmonic Orchestra. Franz Schubert's lovely homage to the Blessed Virgin Mary is one I had always hoped Sarah would record. She employs a lighter, more delicate approach to this hymn than I had initially expected, but sings it so very beautifully and with such reverence and grace. She performs this amazing song in a style like no other, and packs so much emotion into it that tears come to my eyes! This stunning song is without question a standout of the new material!
La Wally - Taken from the album Time To Say Goodbye. This stunning song is one of my favourites. It is the very beautiful aria 'Ebben?... Ne andro lontana', from Catalani's opera La Wally, and a great piece to showcase the incredible vocal range that Sarah possesses! She reaches an incredibly high note with nary a flutter near the end of this one. Awesome!
Winter Light - A NEW recording with the Royal Philharmonic Orchestra. This is a song that Linda Ronstadt recorded some years ago, and I am not sure if it is truly classical. But it is a very beautiful song, and fits in quite nicely with the rest of the material on the album. There is some very nice keyboard accompaniment in this song, and strong vocals from Sarah. This is the only song on the album with all English lyrics.
Anytime, Anywhere - Taken from the album Eden. Tomaso Albinoni's Adagio is the backdrop for this track, and it compliments Sarah's incredible and powerful vocals very nicely. Sarah also had a hand in writing the lyrics for this song.
Alhambra - A NEW recording with the Royal Philharmonic Orchestra. This is an original Sarah Brightman adaptation, with new lyrics written to the Recuerdos de la Alhambra of Francisco Tarréga. What a gorgeous song, with its great melody, and performed ever so stunningly by Sarah! Definitely another one of the standouts of the new songs on this album.
Lascia Ch'io Pianga - Taken from the album Eden. The combination of George Frederick Handel's music and Sarah's vocals is obviously a winning one! A stunning piece sung so elegantly and gloriously by Sarah, with outstanding orchestration! Handel's music has always been a favourite of mine, and Sarah's awesome voice is an incredible enhancement to this glorious music!
Dans La Nuit - A NEW recording with the Royal Philharmonic Orchestra. This is another original Sarah Brightman adaptation, with new lyrics written to what is I believe the third Etude of Frederick Chopin. Another absolutely gorgeous melody, with yet another stunning vocal performance by Sarah! She again displays her incredible vocal range, transversing from soft and delicate to strong and powerful! I would also consider this one of the standouts of the new songs!
Serenade / How Fair This Place - Taken from the album La Luna. Serenade is an all too short but nonetheless very beautiful introduction to the incredible song that it flows seamlessly into. Those angelic aahs give you shivers all over! Sarah's voice is so pure and crystal clear, and just soars to new heights! How Fair This Place is one of the first songs that Sarah sang as a young girl, and to me there is an obvious emotional bond evident when she sings it. The beautiful music of Sergei Rachmaninov makes for a perfect setting.
O Mio Babbino Caro - Re-recorded with the Royal Philharmonic Orchestra. This tender and beautiful aria by Puccini was originally released by Sarah on her album Time To Say Goodbye, and was a live concert recording. It is quite simply put a great aria, and Sarah performs it superbly once again, putting even more emotion into it than previously! Yet another standout!
La Luna - Taken from the album La Luna. This is without question a stunning song! The music of Antonin Dvorak and Sarah's superb vocals make for a winning combination! Sarah displays for us her incredible range, as she shifts between her pop voice and her full blown soprano voice with amazing ease! Bravo Sarah!
Pie Jesu - Re-recorded with the Royal Philharmonic Orchestra. This absolutely gorgeous and very moving song from Andrew Lloyd Webber's Requiem was originally recorded with boy soprano Paul Miles-Kingston in the mid eighties. I was quite excited to hear that this song was being re-recorded, since it was previously done so long ago. Well, this recording with Sarah singing both parts does not disappoint. The vocal performance is superb, with even more emotion than before! The harmony vocals are great, and the choral backing is again strong like the original was! This is music that was written especially for Sarah Brightman, and that is quite evident in this performance!
Figlio Perduto - Taken from the album La Luna. The music of Ludwig Van Beethoven's seventh symphony and the awesome voice of Sarah! What more could one possibly ask for. A very dark and mysterious song that is extremely well done, with some effective keyboard playing.
Nessun Dorma - Re-recorded with the Royal Philharmonic Orchestra. This stunningly beautiful Puccini aria was originally recorded by Sarah for her Eden album. This has been and still is a show stopper without question! It is possibly the greatest aria of all-time, and Sarah is even better this time around than the last! And that alone is amazing! There is some superb choral backing on this one, and the aria is longer than the previous one, with more choral singing at the end of the aria. This song can only be described as spine tingling!
Bailero - Taken from the album Eden. This traditional song taken from Joseph Canteloube's Songs of the Auvergne has an absolutely beautiful melody, and features superb singing by Sarah! I just love the oohs at the end, they give me tingles all over!
Time To Say Goodbye (solo version) - Taken from the EP Time To Say Goodbye. This is an absolutely awesome piece of music! You can't help but love this song, as it has such a beautiful melody. And Sarah's voice is simply outstanding, including some superb harmony vocals! Sarah's signature piece closes out another awesome album! Encore! Encore!
Additional Comments
There are four brand new songs on this album, and three re-recorded songs, all done with the Royal Philharmonic Orchestra. The remainder of the tracks are taken from Sarah's previous three albums.
All I can really say is what more could you possibly ask for? Yes, an album of all new material would have been nice, but an album devoted entirely to classical music and performed by the world's greatest soprano! Wow! There are no disappointments to be found on this album, and Sarah is at her best in this well selected compilation of classical works. There are so many stunning songs to be found here, including the new recordings! The only notable songs that I feel are missing is Handel's Solo Con Te, and the Rodrigo En aranjuez con tu amor. And even though they are not true classical songs, I would have considered putting the two outstanding Morricone tunes on the album. One thing that I did find was the liner notes are a bit sparse, and the photos are a bit too provocative, which I feel is not necessary for such a truly talented artist.
So quite simply put, this is yet another absolutely amazing and outstanding recording from our beloved "Angel of Music!" No Sarah Brightman fan will want to be without this album for sure! If you have not yet discovered Sarah's music, this is a perfect place to start your collection. One listen and you will surely want all of her albums!
Us true Sarah fans have known all along that she is without question the greatest singer in the world! This just re-affirms it once again! And how can this possibly be topped? With Sarah, you know it will be!
Bravissimo Sarah !!