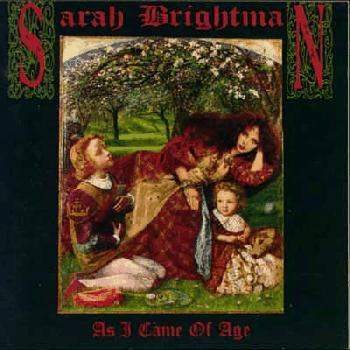 AS I CAME OF AGE

( Polygram - 1990 )
My CD Review
The River Cried - A very nice pop tune, with Sarah herself providing good backing vocals.
Something to Believe In - This song was co-written by Paul Bliss, who toiled with the Moody Blues through the 90's. I thought that it sounded familiar when I heard it, and it was because Justin Hayward had recorded this tune on his latest album 'The View from the Hill'. Beautiful pop vocals by Sarah on this song, and some nice acoustic guitar work.
As I Came of Age - The title track is a very nice tune, with smooth vocals provided by Sarah.
Take My Life - Co-written by Andrew Lloyd Webber, this is another nice tune. There is some really nice guitar work prevalent in this song.
Some Girls - This catchy electric pop tune has a modern countryish sort of feel to it, with a great electric guitar solo near the end.
Brown Eyes - Co-written by Phil Everly of the Everly Brothers. This song has a great melody, and Sarah does some really nice harmony vocals throughout.
Love Changes Everything - Another nice song co-written by Andrew Lloyd Webber, and co-produced by Peter Asher.
Good Morning Starshine - This is the very beautiful song that Oliver did for the movie 'Hair' way back when. Sarah sings this tune beautifully, and there are some great backing vocals as well.
Alone Again Or - This song has a very nice melody, and some very nice guitar work, including spanish-flavoured acoustic guitars, as well as electric guitars.
Yesterday - Sarah sings this song with a deeper voice at times. A great pop tune with strong vocals throughout.
Bowling Green - Another song co-written by Phil Everly of the Everly Brothers. Some nice guitar work on this song, as well as superb harmony and background vocals provided by Sarah herself.
It Must Be Tough...To Be That Cool - A countryish sort of song, but with lots of rhythm and drive.
Additional Comments
Overall this is a very good all pop music album by Sarah. Her pop vocals are at times strong, and at other times very tender and smooth. The influence of producer Val Garay, as well as co-producer Peter Asher, who both worked previously with Linda Ronstadt, is evident from the outset. Some of the tunes have a Linda Ronstadt sort of feel and sound to them, and a few of the backup musicians have also worked with Linda, as well as the Eagles (Andrew Gold and Waddy Wachtel to name a couple). While this may not be what you expect when you consider the music Sarah has produced recently, it is nonetheless a strong effort. To me, this was an album that helped Sarah discover who she was, and helped her find the direction to go to create her own unique music. This is an album that all dedicated Sarah fans will want to add to their collection.