On April 28, 2005 I journeyed with my wife and my sister to Minneapolis, Minnesota to attend our first ever Secret Garden concert. After settling into our hotel room that afternoon, our experience began with a trip to Pantages Theatre in downtown Minneapolis to observe a bit of Secret Garden's pre-concert sound check. Meeting tour manager Andrew Richter at the service door, we were led into the theatre via the stage, right past the performers, and then took seats in the front row of the theatre. During a break in the proceedings, Fionnuala spoke with us from her spot on the stage. They were expecting us, and were quite elated that we had journeyed all the way from Winnipeg for their concert. We chatted for a spell and then the sound check continued. We were by now getting a pretty good idea of what was to come later that evening! During another break in the action, we decided we had better head off for dinner, as we had reservations at the hotel. But before we left Fionnuala and Rolf greeted us and conversed for a little while, and said they looked forward to chatting more at the meet and greet after the concert. The meet and greet is something that Secret Garden does after all of their concerts, and to me is an indication of artists that are truly appreciative of their faithful followers.
After bidding them farewell, we headed back to the hotel to have dinner with local pianist Rebecca Kragnes and her husband Phil. Rebecca had been kind enough to not only send me a copy of Earthsongs, which at the time was not available in Canada, but also to purchase our concert tickets for us. It was fun to finally meet Rebecca after having only communicated with her via email for many years. Rebecca is a fine pianist, and has released three albums thus far, which I am honoured to be playing on my radio program in Winnipeg. Rebecca was 'discovered' by the great new age pianist David Lanz, and he has been a real source of insight and inspiration for her. Rebecca is now working on her fourth album, and hopes to release it later this year. After a fine dinner with much engaging conversation, the five of us headed to Pantages Theatre for the big event.
While Pantages Theatre looks quite ordinary on the outside it is quite spectacular on the inside, very beautifully and ornately decorated, including a stained glass skylight. We took our place in the front row seats Rebecca had obtained for us, and awaited the two phenomenal artists that together lead this heartfelt ensemble. The concert began with a couple of stunning duets for violin and piano, as only Fionnuala and Rolf can so passionately and exquisitely deliver! The duo were then joined onstage by singer and harp player Katie MacMahon, and also multi-instrumentalist Stainer, who performed on a variety of flutes and whistles, as well as a fiddle and a cello. The tempos varied throughout the first half as did the combination of instruments, and the audience was magically swept into a musical secret garden. The time passed quickly, and before we even realized it we had reached intermission.
The second half began as the first had, with only the dynamic duo onstage together performing on piano and violin. The others then joined in once again, and the time just seemed to fly by. Over the course of the evening these artists treated us to a variety of Secret Garden songs drawn from all of their recordings, including the just released Earthsongs album. Katie sang and played beautifully, and Stainer accompanied like a one man orchestra! But always at the heart of the music was the warm and breathtaking playing of Fionnuala on violin and Rolf on piano and keyboards. All too soon we reached the final piece, and following a rousing standing ovation, the ensemble returned to the stage for a couple of encores. All too soon this enchanting "Evening with Secret Garden" had come to an end. We had all been treated to an awesome concert that will most certainly linger in our memories forever!
Fionnuala Sherry and Rolf Lovland are two of the worlds greatest musicians, and their performance showcased their colossal talents not only as musicians but as interpreters of music. And Rolf Lovland the composer is in my opinion a modern-day Mozart, his gifts of melody and harmony so extraordinary. The music he creates will soothe and caress your soul, and warm your heart. Take my word for it, this is the most beautiful and heartfelt music you will ever hear. And if you have a chance to experience it performed live, you will realize that it's even more wonderful than their remarkable recordings are!
So what could possibly follow such an amazing concert? Well, there was of course the aforementioned meet and greet. The artists all came out into the theatre lobby after the concert to be with their fans and sign autographs. Rolf and Fionnuala sat at a table and chatted to all of the endearing aficionados who remained after the concert for the opportunity to meet and greet the stars. We waited until the end for our turn, and had the pleasure of conversing with them for quite some time. We obtained autographs, pictures, and exchanged hugs before bidding them a fond farewell. What a fitting conclusion to an evening of "music and magic"!
And from this concert experience it's easy to comprehend how the duo of Rolf Lovland and Fionnuala Sherry are able to create and perform their art. Their music is a true expression of their souls - two very beautiful people who are warm, charming, sincere, and very much down to earth. They take a genuine interest in their fans, and take the time to listen and interact with them. I feel honoured and fortunate to have finally met the creators of this remarkable music! This is in all honesty heartfelt music at its finest!
Finally, thanks are definitely in order. My sincere thanks to Rebecca for acquiring the tickets and assisting with our trip planning, and to Trude and Andrew for arranging the pre-concert meeting with Rolf and Fionnuala. Bravo to Secret Garden for performing such a superb and extraordinary concert! And special heartfelt thanks to Fionnuala and Rolf for sharing with us your phenomenal talents, pouring out your heart and soul through your music, and sharing your time with your devoted followers! You are two very special people who will always have a place in our hearts!
Love,

---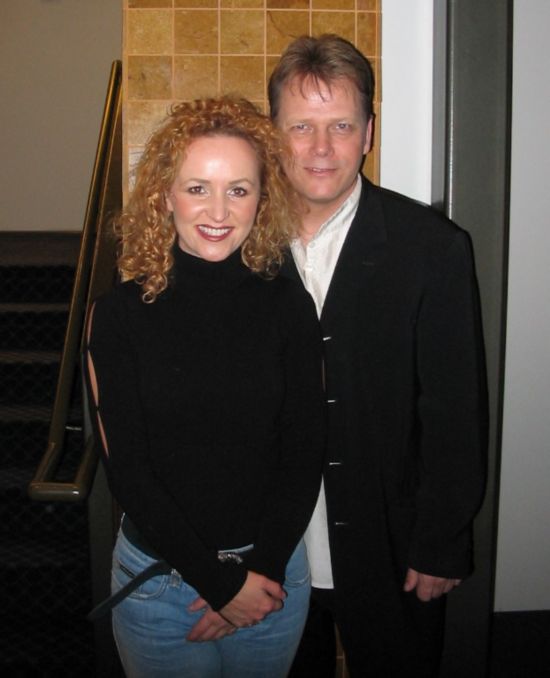 Fionnuala Sherry and Rolf Lovland beam after their concert

Fionnuala and Rolf after their concert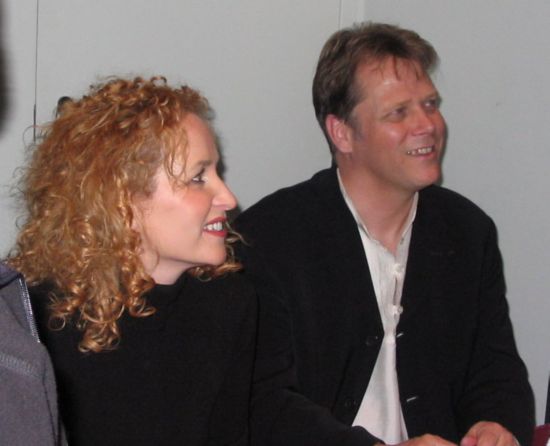 Fionnuala and Rolf chat and sign autographs after their concert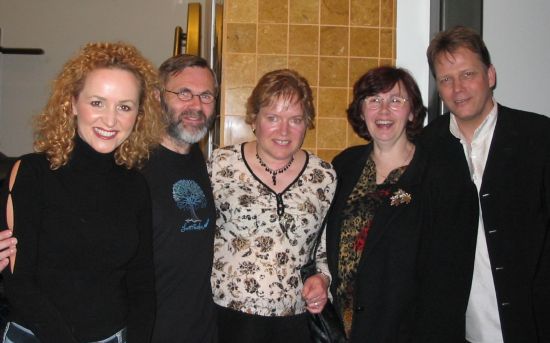 John, Jennifer and Mary with Fionnuala and Rolf at the meet and greet

John, Jennifer and Mary with Fionnuala and Rolf at the meet and greet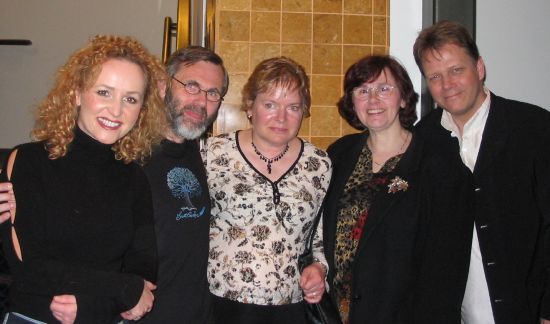 John, Jennifer and Mary with Fionnuala and Rolf at the meet and greet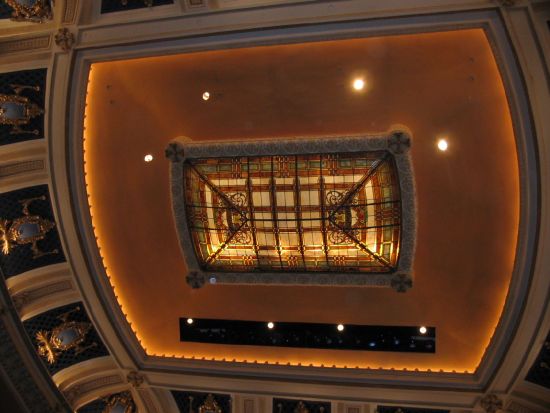 The stained glass skylight in Pantages Theatre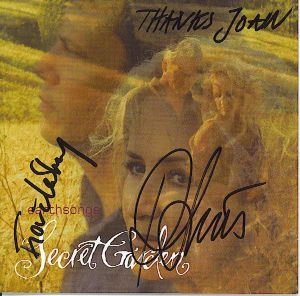 My Earthsongs CD cover sutographed by Fionnuala and Rolf