(Information courtesy Jana Ting)

(Photo © Frank Yong)
BIOGRAPHY:
Studying music since the age of six, Jana Ting won several classes in the Winnipeg Music Festival, most notably the Adult Concerto class at the age of twelve, and played twice in the National Finals of the Canadian Music Competition. With an ARCT in Piano Performance in hand, she decided to pursue a degree in Systems Design Engineering at the University of Waterloo. There, she combined her love of music with engineering through a computerized Braille music project with Dr. Peter Hatch from Wilfred Laurier University and through a stint as a recording engineer for the Kitchener-Waterloo Chamber Music society with Dr. Jan Narveson and Dr. Stanley Lipschitz.
While working as a systems engineer in New York, she widened her musical experience by exploring Chinese traditional music, jazz piano with Charles Sibirsky and keyboards in a funk band as well as Indian ragas with American composer Michael Harrison. She left New York's racing pace behind to walk on a pilgrimage to Santiago de Compostella in Spain before settling in London, England. News of her father's cancer brought her swiftly back to Winnipeg, and his death in August 2002 inspired her to place music and writing before engineering. Within two years, she earned her Trinity Licentiate in Piano Performance and her ARCT in Piano Teaching. She is currently writing her first book, The Pilgrim Pianist, teaching privately, and giving workshops on simple techniques to develop personal creativity. Roses In Winter, her first CD due for release on November 28th, 2004, is a tribute to her father and those affected by cancer. Her passion is to continue her journey as an artist, engineer and thinker.
ROSES IN WINTER CD - PROJECT INFORMATION:
Latest news:
I have been very fortunate in receiving support from the Winnipeg community! The biggest news is that my family, the University of Winnipeg, and the University of Winnipeg Collegiate are establishing the John Ting Memorial Collegiate Fund to give scholarships to students. This is very meaningful for me because my father taught at the Collegiate for nearly 30 years, and I am a graduate of the Collegiate.
Our goal is to raise at least $10,000.  Please note that Jim MacDonald, Chair of The Collegiate Appeal for Bursaries and Scholarships, will match donations from individuals to the John Ting Memorial Collegiate Fund (to a maximum gift size of $25,000).  If you would like to make a donation, download this donation form for mailing, or call 204-786-9013 or toll-free 1-888-829-7053 for assistance with your gift.  Any donation would be a generous support and greatly appreciated!
Dr. Harry Strub and I collaborated on a concert on November 28th, 2004 in Eckhardt-Gramatté Hall at the University of Winnipeg. The concert celebrated the lives of my father and others affected by cancer through classical piano music and writing from the Heartspace Writing School. Part of the proceeds were donated to my father's memorial fund and CancerCare Manitoba. This concert also marked the official release of Roses in Winter.
Motivation:
At the broadest level, I want to promote hope in the face of uncertainty or death for families affected by cancer. Roses In Winter is a tribute to my father's life plus a celebration of lives affected by cancer. Music is the best way I can give back to CancerCare Manitoba for their service and to recognise my father's contribution to the University of Winnipeg Collegiate. Part of the proceeds will be donated to the John Ting Memorial Fund and to CancerCare Manitoba. On a personal level, I want to establish myself as a musician, record my musical growth to date, and realise a dream.
Theme:
Roses In Winter symbolizes rebirth, beauty and renewal of spirit in the midst of death. In the ancient Greco-Roman culture, the rose depicted beauty, the season of spring, and love. It also alluded to the fleetness of time, and hence inferred death and the world beyond. Cancer often is linked with death. I want to give hope that transformation can happen in presence of death and to remind people to "stop and smell the roses" in presence of life. All pieces on my CD relate to this theme of rebirth, beauty and renewal of spirit.
Where to Find Roses in Winter:

Purchase online at CDBaby (You can read reviews there too)
Order by email directly from Jana Ting
At the following Winnipeg retailers:
- Into the Music (245 McDermot Ave, Old Market Square)
- McNally Robinson (Grant Park Shopping Centre)
- Music Trader (97 Osborne St, Osborne Village)
- Folk Festival Music Store (103-211 Bannatyne Ave, Old Market Square)
At the Winnipeg Public Library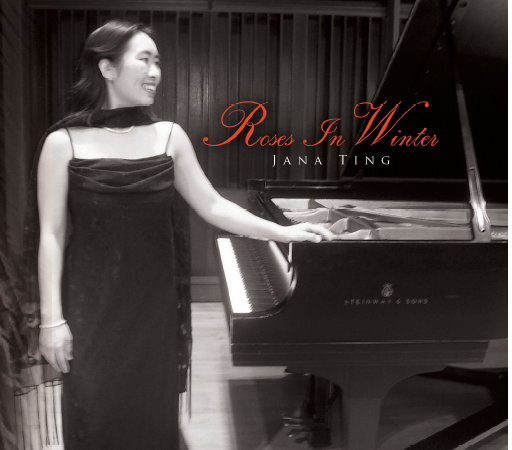 (Photo courtesy Jana Ting)
CD Program:

Mozart: Sonata in D major K576 - Mozart's last piano sonata does not betray his physical exhaustion nor worries about poor finances or an ill-stricken wife. Instead, it radiates with joviality, fine craftsmanship, and an exquisite lyricism.
Chopin: Nocturne in C-sharp minor Op 23, No 1; Nocturne in D-flat major Op 23, No 2; Waltz in C-sharp minor Op 64, No.2 - Chopin, the poet of piano, evokes unparalleled charm in his waltz as well as the feeling of love and transformation of day into night in his nocturnes.
Brahms: Intermezzo in E major Op 116, No 5 - Brahms reminisces about his bittersweet life and his unrequited love of Clara Schumann in his tender intermezzi.
Debussy: Soirée Dans Grenade from Estampes - Debussy paints a sensuous tonal landscape of Grenada's natural seductive beauty.
Szymanowski: Etude in B-flat minor Op 4, No 3 - Szymanowski's etude is a beautiful, yet painful lament for his father. Published in the year of his father's death, it is marked "In modo d'una canzone - (con dolore)".
Rachmaninoff: Prelude in G major Op 32, No 5 - Rachmaninoff's prelude is atypical piece in its transparent texture and eternal tranquility that borders on the ethereal.
Liszt: Transcendental Etude in F minor No 10 - Liszt transcends the nature of the piano into the spirit of an orchestra, just as man must transcend his physical nature into spirit in his last heroic battle against death.


On February 10, 2008 Jana performed live on the Shades of Classics FunDrive show. She performed three selections, one for solo piano and two with her singing partner Aiza. You can download the performance, which was in hour two of the show, by using the following link to the Shades of Classics CKUW archive - Download Shades of Classics February 10 show
Find out more about Jana, and hear some of her music, by going to www.janating.com